Thomas Noble
Thomas Noble was born on September 10, 1696 in Westfield, Massachusetts to Thomas Noble and Elizabeth Dewey. Thomas was a farmer by profession. His grandfather, also named Thomas (married to Hannah Warriner) was an early settler of Westfield. The records of Westfield show that Thomas was chosen to be a fence viewer in 1739 and 1744. In 1761 he was on a committee to build pews in the meeting house. He was a moderator of town meetings held in that same meeting house. He lived on the land of his grandfather.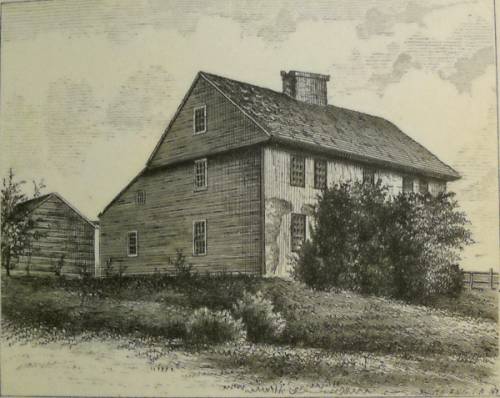 The home of Thomas Noble, Westfield circa 1725
The Family of Thomas Noble
Thomas Noble married Sarah Root on 1 September 1722 in Westfield. Below is a list of their children.
Sarah Born 11 Aug 1723 Died 26 March 1796
Married Aaron Dewey
Thomas Born 6 Feb 1725
Married Susannah Cole
Stephen Born 16 Apr 1727
Married Ruth Church
Eunice Born 9 Mar 1729
Married Samuel Smith
John Born 7 Sep 1731
Married Lois Sexton
Silas Born 28 Aug 1733
Married B Dewey and May Taylor
Aaron Born 24 Dec 1735 Died 26 Nov 1760
Elizabeth Born on 2 Feb 1738
Married M. Dewey, J.C. Miller and B. Saxon
Caleb Born 1 April 1741
Married Mercy Kellogg
Seth Born 15 April 1743
Married H Barker, R. Emory and M. Riddle
Sarah Root, Wife of Thomas
Sarah Root was born in 1701 in Westfield, Massachusetts to John Root and Sarah Stebbins. She married Thomas Noble on September 1, 1722 and had 9 children with him. There is a discrepancy regarding her date of death. The Westfield town records record her date of death as 26 November 1760, however, her tombstone states Sarah Root Noble died in Westfield on July 19, 1760.
After the death of his wife, Sarah Root Noble, Thomas Noble married Sarah Field Belding in 1761. She died just a few years later on August 17, 1763 in Westfield. Thomas died in Westfield on February 18, 1775 at the age of 78 and was buried in The Mechanic Street Cemetery.
---
Home | Locations | Surname Index | Photo Galleries |