Milton Dewey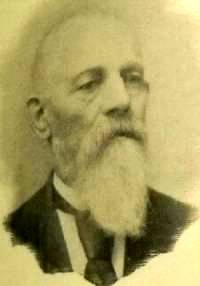 Milton Dewey was born in Turin, New York on 23 March 1818. Milton was the son of Chester Dewey and Phebe Wetmore. Milton began life on his father's farm and helped with the daily farm chores. After moving to Martinsburgh, New York, Milton worked as a shoe maker and a harness maker. In 1864 he moved his family to Binghamton, New York in Broome County. Milton was active in his church and was a Sunday school teacher. He was also justice of the peace in the city of Binghamton. In 1882 he moved to Jersey City, New Jersey. In January, 1888 Milton and Pamelia celebrated their 50th wedding anniversary, an occasion that brought the entire family together under one roof for the first time due to the age spans of the children. Pamelia Riggs Dewey died on 29 August 1888 in Jersey City, New Jersey. After the death of Pamelia, Milton spent his summers in Conklin, New York with his daughter Louise and winters in Jersey City with his daughter Ida until his death. Milton died in the home of his daughter (Helen) Louise Lawrence in Conklin, New York on 2 November, 1897.
The family of Milton
On January 30, 1838 Milton married Pamelia Riggs who was born in Western, New York on 2 July 1818. Together they had 10 children. Listed below are their children.
Amanda Phebe Born: 13 December 1838
Married Horatio Brooks
Chester Franklin Born 12 August 1840
Margaret Lawrence
Helen Louise Born 12 November 1843
Married Maurice Holmes Arthur and Mortimer Lawrence
George Emory Born 13 March 1850
Married Almine Gillins
Frances Emily Born 13 March 1850
Married James W. Guernsey
Ida Estella Born 17 February 1855 Married David Beach
Charles Marion Born 6 August 1856
Married Etta Kent
Adelbert Milton Born 13 November 1857
Married Helen B. Crossman and Raynella ?
Myra Born: About 1861
Married Albert E. King
Note: The Dewey Genealogy published in 1898 listed all the children above except Myra who was omitted. It listed an additional child named Sarah Maria with a birth date of 15 June 1866. I could find no evidence of a Sarah Maria Dewey and no one by that name was listed on any family census. The spouse listed for Sarah Maria in the book was actually the spouse of Myra Dewey.
The Children of Milton and Pamelia
Adelbert Milton Dewey the youngest son of Milton and Pamelia, was asked to write the 1898 book titled "Life of George Dewey, Rear Admiral, U.S.N." by Admiral George Dewey. He was editor of The Dewey Family History which was published together as one large book. He worked for the United States Government under President Harrison's administration in the Government Printing Office as was a special agent for the Department Of Labor in 1894.
Helen Louise Dewey married Maurice Holmes Arthur on August 24, 1862. The marriage did not last long because Maurice was a Union soldier in the Civil War. He died April 24, 1863 at Fort Carroll, Maryland. In 1866 she married Mortimer Lawrence. They had 5 children together. She died in 1929 and is buried in Floral Park Cemetery in Johnson City, New York.
Chester Franklin Dewey at the age of 20 enlisted in Company B of the 59th New York Infantry during the Civil War. He was promoted from Private to Sergeant during his three year service and was in the Battles of Bull Run, South Mountain, Antietam and Fredericksburg. He was shot in the thigh during the Battle of Fredericksburg. His three year term was completed in August of 1864, however, he enlisted in Company H of the 1st New Jersey Cavalry and served until April 6, 1865 when he received a bullet to the head and was taken prisoner. He amazingly survived this to return home to Binghamton, New York. He married in 1869 and lived out his life as a contractor in Binghamton.
Back to Dewey Index
---
Home | Locations | Surname Index | Photo Galleries |