New Ashford Records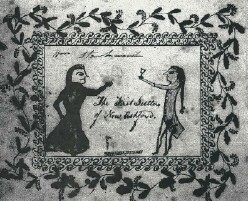 Pictured here is an actual image from the first book containing the birth records of New Ashford
This page will provide links to some early town records from New Ashford. A friend of mine obtained these for me to learn more about my ancestor Abel Kent. However, many names and some information on the beginnings of the town itself are on these records so I have decided to share them here. I thank James Bianco for obtaining them for me.
Town Meetings
This section will contain links and brief information for documents regarding town meetings. I may extract these records on a future date, however, for now you can click the links provided to view an image. These images give information regarding the history of the town. Please note that references to "the plantation" refer to the town itself. In the early days, New Ashford was called the New Ashford plantation.
First Town Meeting
The first town meeting recorded was June 7, 1775. People mentioned in this document include Gideon Kent, Samuel Gregory, Abel Kent, Ensign Fulford, Asa Barnes (of Lanesborough), Andrew Cornish, Abel Moss, Jonathan Fulford, and Ebenezer Mudger. Click the link below to read the image.
July 24, 1781
This is a notice regarding an upcoming meeting to be held at the house of Abel Kent.
September 24, 1781
People mentioned in this document include Nathaniel Kent, Comfort Barnes, Amariah Babbit, Gideon Kent, Abel Kent, Thomas Lyon, Andrew Booth, Samuel Wells, James Mason, Jothem (?) Beach, and Major Barnes.
October 22, 1781
People mentioned in this document include Captain Kent (Gideon), Comfort Barnes, Benjamin Tyler, Captain Babbit (Amariah), Abel Kent, John ?, and Samuel Tyler.
December 24, 1781
The notes for December 24th are brief and contains no names. However, also included on this page are notes regarding a town meeting that took place on March 4, 1782. People mentioned on the notes for this meeting include, Captain Amariah Babbit, Dudley Holdridge, Major Barnes, Moses Barnes Abel Kent, ?bin Martin, and Nathaniel Kent.
April 7, 1788
Recorded by the town clerk, Asahel Gregory on this page are the number of votes for each candidate. No names of New Ashford residents are on this page but it is interesting to see how the town cast their votes for govennor and senator that year. John Hancock got the most votes (23) for the office of govennor. Also included on this page is an entry dated May 11, 1788 which states Abel kent and Diadamy Horton published their intention of marriage. It was signed by the town clerk Asahel Gregory.
March 20, 1788
Notes on town meeting held on this date. People mentioned in meeting notes include Captain Babbit (Amariah), Asahel Gregory, Gauis Harmon, Uriah Malery, Jonathan Fish, Samuel Tyler, John Baxtor, Nathaniel Kent, Thomas Lyon, Asa Buck, Seth Jones,and Abel Kent.
August 24, 1788
Notice that Archabil Beach and Lodah Moors published their intentions of marriage.Also included is September 14, 1788. On this date it is noted that Nathaniel Holdridge and Diadamy Elton had published their intention of marriage.
August 24, 1789
Mentioned in the meeting notes on this date include Lieutenant Seth Jones and Ensign Starkweather. Also on this page is an entry dated 7 March 1790 announcing William Campbell and Thankful Kent had published their intent to marry.
Back to Lanesborough Index
Back to New Ashford Index
Back to Abel Kent Sr.
---
Home | Locations | Surname Index | Photo Galleries |