Daniel Adam Huffman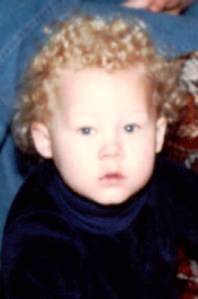 Daniel Huffman was my biological nephew. I never had the opportunity to meet Daniel, although I wish I had. Daniel spent some time looking into the Huffman family genealogy. That makes it all the more appropriate that the Huffman portion of this website is dedicated to him. This page is his story.
Daniel Adam Huffman was born in Danville, Illinois on Christmas Eve in 1978. He was the son of my brother Barry and his (ex) wife Alice. Although he was my biological nephew, he died before I had the opportunity to meet him. After I met my biological family and listened to them speak about Daniel, two things became very clear; he was tremendously loved and respected by all who knew him and his loss left a huge hole in the lives of everyone who knew him. Daniel was one of those rare people who had the ability to bring a smile to your face no matter how sad you may have been, to light up your life. By all accounts he was a kind, loving soul who would give the shirt off his back to anyone who needed it. These are more than just words; Daniel proved it every day of his short life. At the age of 16 he would prove it in a very big way.
Daniel had a love and passion for the game of football since he was very young. When Daniel was in high school he earned the opportunity to play on his high school football team called the Bobcats. He worked hard work to improve his game, eventually earning the title of co-captain of the team. His hard work and dedication further paid off when he earned a football scholarship to Illinois State University during his junior year of high school. However, the summer of that same year changed everything for Daniel.
Shirley and Daniel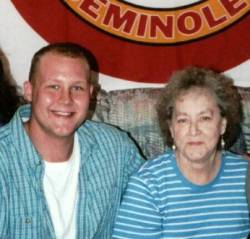 Shirlee (Huffman) and Danny Allison were Daniel's grandparents, whom he lived with and loved very much. Shirlee developed a number of health issues, mostly due to her diabetes. As a result, her kidneys were damaged and began to fail in 1994. She had to go through kidney dialysis treatments three times every week. As time progressed, it became clear that her kidney disease had advanced to the point where she needed a kidney transplant to survive. Shirlee was dying. Daniel began to realize his precious grandmother was running out of time. Several family members, including Daniel's father (Shirley's son), had tests done to see if they would be compatible kidney donors; however, no one was a good match. Daniel was only 17, but he insisted on being tested. The test results revealed he was an extraordinarily strong match for kidney donation for Shirlee. Daniel knew if he donated his kidney to his grandmother all his hopes and dreams of becoming a professional football player would never be realized. He would not only lose his lifelong dreams of professional football and his ability to play any contact sports, but he would lose his football scholarship and therefore be unable to attend college. He never thought twice. His grandmother was more important, so Daniel decided since he was a match he would donate his kidney to save the life of his grandmother. Daniel was only 17 so no one in his family was happy about this. Shirlee and Daniel's parents were all against his decision initially. But Daniel was insistent. He was so insistent that he had to go to court to be emancipated from his parents so he could proceed with his decision to donate one of his kidneys to his grandmother. In the end, the family respected his decision reluctantly, knowing that Daniel understood the consequences of his actions. The surgery was successful and gave his grandmother a new lease on life. Although Shirlee felt great immediately after surgery, Daniel had a more difficult recovery than his grandmother which was complicated by his an issue with his surgical staples and an infection that occurred. In time, he did heal and returned to school to complete his senior year of high school.
Life After The Kidney Donation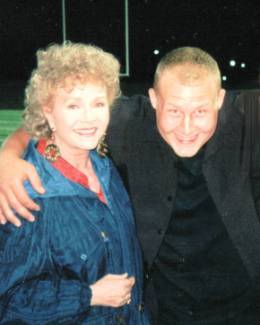 The Associated Press published an article regarding Daniel's sacrifice in several of their newspaper outlets across the nation. As a result, Daniel received some attention from very unexpected places. His story was brought to the attention of Bobby Bowden, the coach at Florida State University, who fought for Daniel to receive a sports scholarship at Florida State University(FSU). His efforts paid off and Daniel was awarded a full scholarship there. In return for the scholarship, Daniel was to be a student athletic trainer for the football team at FSU. Articles were also written in Sports Illustrated and other magazines. Daniel graduated from high school and attended Florida State University. He attended this university for four years. In 1996 Daniel was the first recipient of Disney's Wide World Of Sports Spirit Award for his sacrifice to his grandmother. In 1998 Daniel was contacted regarding a movie that Showtime wanted to make about Daniel and his sacrifice for his grandmother. The movie titled "Gift Of Love: The Daniel Huffman Story" starred Elden Henson as Daniel and Debbie Reynolds (shown pictured here in costume as Shirlee Allison) as Daniel's grandmother. The movie premiered in 1999 in Hollywood, California and Daniel, his sister, and his grandparents were all able to attend the red carpet premiere event. Daniel and Shirlee also appeared in several talk shows to promote the movie, such as Oprah and The Today Show. Daniel did not make any money from the movie and had given up all his royalties under the stipulation that the movie would never be shown without a short clip that Daniel and the movie's star, Debbie Reynolds had filmed. The brief film clip helped to promote organ donation and was to be shown with every version of the film. After the movie, Daniel continued his university education at FSU and attended the school for more than three years. He did not receive his degree from this school. On 1 August 2000 Daniel's grandfather Danny Allison died suddenly of a heart attack at the age of 58. Daniel did not finish his senior year at FSU. Instead, he opted to finish his degree at University of Illinois at Urbana-Champaign about 40 miles from Rossville, where his grandmother lived. Daniel Huffman died 6 December 2004 in Normal, Illinois. Although he died of a gunshot wound, it was ruled a suicide immediately without an investigation. Daniel was just 25 years old when he died.
Daniel's Best Friend
I asked Shaun, Daniel's best friend, to write something about Daniel for this page. Since Daniel's death, Shaun organizes an annual memorial for Daniel. Below are Shaun's thoughts about his best friend.
"I have wracked my brain on how to describe my best friend Daniel Huffman. I could list the obvious he was someone who listened, someone who supported me, or someone who was always there. All of which are very true. Most people that truly didn't know Daniel knew of the kid that donated a kidney to his grandmother, had a movie made about him, and passed away tragically. Once again all very true. The ones though that really knew Daniel like family, friends, classmates, and his hometown citizens of Rossville all knew something different. Something that I know and its not his blonde curly hair, the way he would light up a room, or his compassion to help others. It's the reason its so hard for me to explain or write in words about my best friend, because my friend is different than most. My best friend was an Angel on Earth."
---