Anderson Smith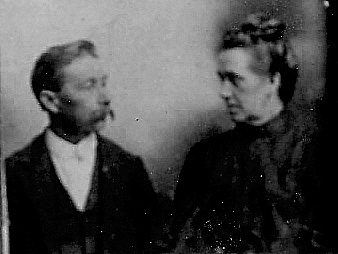 Anderson Smith was born 28 February 1856 in Jackson, Madison County, Tennessee[1]. His father was Calvin M. Smith and his mother was Sarah H. [1]. The surname of his mother is listed as Price on the death record of Anderson. Shortly after the birth of Anderson his family left Tennessee for Tompkinsville, Kentucky. They brought Sarah's widowed mother Mary Denton with them to Kentucky[3]. The young family lived here when the Civil War began. In September, 1861, the father of Anderson left his family to join the Union Army as the Civil War began. He did not return home until December, 1864[4]. On 10 January 1879 Anderson married Martha T. Hardin[5]. Anderson and Martha settled in a home in Brush, Monroe County, Kentucky (now called Brush Creek). where Anderson farmed the land. On 6 March 1880 Martha gave birth to their first child, a daughter they named Flora[6]. Two years later their son Elon Eber was born on 16 June 1882[7] . Anderson H. Smith died on 10 February 1916 a few weeks before his 60th birthday of the Spanish Flu[2] .
Martha Tibutka Hardin
Martha Tibutka Hardin was born on 10 November 1855 to John Smith Hardin and Eliza Ann Tooley[9]. Martha was born into a very close family. Letters from Martha to her brother show how much she loved her brothers and sisters. Martha and her husband actually lived in a house with her brother Benjamin living on one side and her sister Mary (Hardin) Miller living on the other side of her home[8]. Shortly after the death of her husband in 1916, Martha moved into the home of her daughter and son in law Flora and Warren Dunagan. She lived with them until her death on 20 November 1929 at the age of 74. According to her death record, her cause of death was chronic bronchitis[9]. She is buried at the Cave City Cemetery in Cave City (barren County), Kentucky.
Photo of Anderson and Martha (Hardin) Smith courtesy of Dale Hardin
---
Home | Smith | Surname Index | Photo Galleries |